McKinley Tech High School
Class Of 1979
30th Year Reunion
30th Year Reunion - August 7 - 9, 2009
Call to Action
On February 12, 2009, Donnella Briscoe Rucker emailed alumni of the McKinley Tech Class of 1979 to initiate planning for the 30th reunion. The first planning meeting was held on Saturday, February 28, 2009 in New Carrolton, MD and was attended by thirteen people. Everyone became acquainted with each other and discussed how it was hard to believe 30 years had passed since high school graduation. They also discussed how great they looked even though they were fast approaching the age of 50. After the small talk was finished, the group got down to business. It was decided the reunion would take place the 2nd weekend in August and would consist of three events: Happy Hour, Dinner/Dance and Church Service/Picnic. The Reunion Planning Committee was established and the hard work began.
The Work Begins
The Reunion Planning Committee met almost every weekend from March through August. Many of the subcommittees met during the week, held conference calls and exchanged numerous emails. As with any large group, on some occasions there were some disagreements and misunderstandings, but the committee remained committed to stay focused on the main goal: to make the 30th reunion a very memorable occassion.
Locating the Class of 1979
The McKinley Tech Class of 1979 website was created to serve as the main forum for all communication regarding the class. Classmate Profiles were created for over 700 individuals who were seniors during the 1978-1979 school year and Guest Profiles were created for former faculty and staff. Committee members shared their memorabilia and the website began to take shape.
The Reunion Planning Committee began to spread the word about the reunion and Class of 1979 Techites from all over the world began to visit the website:
8 live in California
1 lives in Colorado
59 live in District Of Columbia
4 live in Florida
5 live in Georgia
4 live in Illinois
193 live in Maryland
1 lives in Missouri
3 live in New Jersey
4 live in New York
7 live in North Carolina
1 lives in Ohio


1 lives in Pennsylvania
1 lives in South Carolina
1 lives in Texas
1 lives in Virgin Islands
18 live in Virginia
1 lives in Washington
1 lives in West Virginia
1 lives in Wisconsin
1 lives in Afghanistan
1 lives in Ghana
2 live in Japan
407 location unknown
Classmates and faculty/staff updated their profiles and reconnected with old friends. They shared stories, photos and favorite memories about their time at McKinley. Everyone was happy and proud to read about how classmates' lives had changed so much since leaving McKinley. They were saddened to learn of the passing of many classmates and faculty/staff.
Classmates

Chandra Bailey
Rose Marie Boodoo (Johnson)
Gregory Bridgeforth
Cheryl Browne
Janice Coleman
Renita Copeland
Jeannette Donald
Kent Green
Kenneth Henson
Stephanie Johnson

Tyrone Johnson
Timothy Lee
Acquanette "Pinkey" McNeely
Judy Metcalf
Mary Peebles (McRae)
Eric Proctor
Christina Rowe (White)
Tyrone Thomas
Cynthia Tillman
Wayne Ward

Faculty and Staff

Mr. Jerry Ainsfield (Social Studies)
Ms. Rhoda Burdnell (Business)
Ms. Liliana Chiappinelli (Foreign Language)
Mr. Woodson Davis (Social Studies)
Ms. Olivia Dixon (English)
Mr. Peter Ford (Music)
Mr. Jorge Hernandez (Spanish)
Mr. Rudolph Liggins (Industrial Arts)

Ms. Mary Lundy (Business)
Mr. David Messman (Spanish)
Ms. Carmel Norcom (Business)
Ms. Marjorie Omohundro (English)
Mr. Anderson Ridley (Math)
Mr. Henry Saunders (Science)
Ms. Gloria Taylor (Media)
Mr. Tomlinson Tod (Drivers Ed)
Registration Events
Several Registration Events were held to allow alumni to reconnect, register for the reunion and make donations to help defer reunion start-up cost.
Meet and Greet I – 04/25/2009 - Stonefish Grill – Location, MD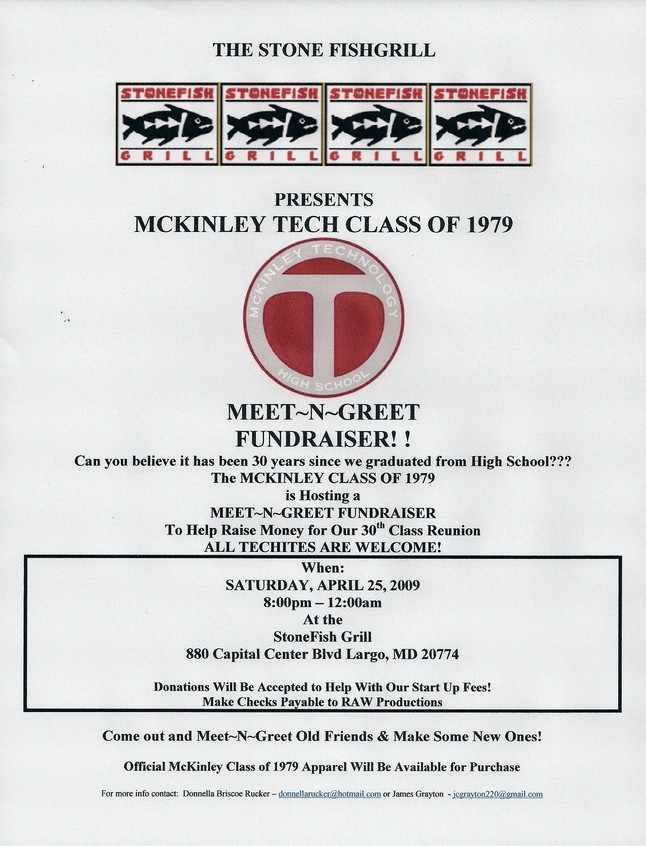 Meet and Greet II – 06/13/2009 - Willie K's – Location, MD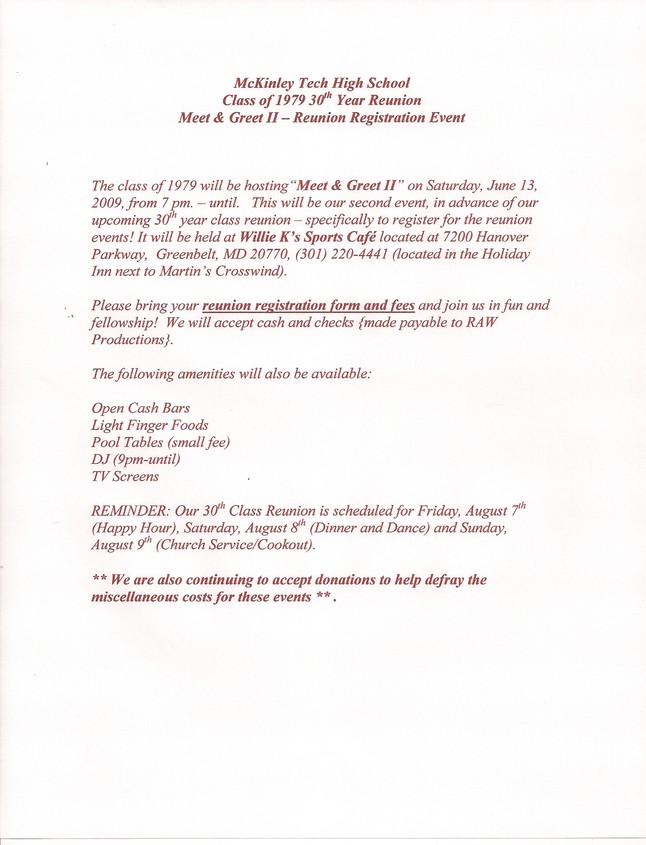 Prayer Breakfast – 06/20/2009 - Holy Redeemer Church – Washington, DC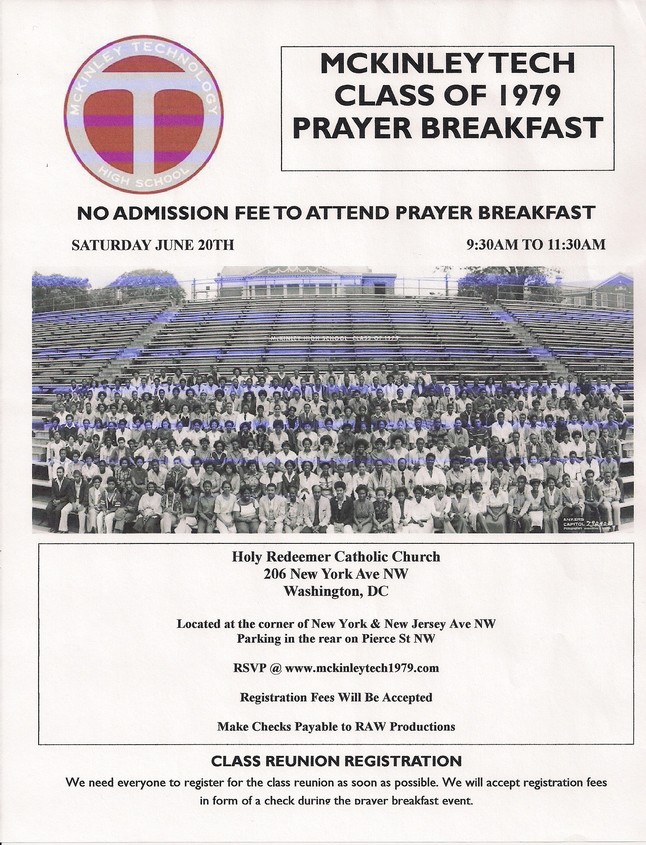 Reunion Weekend
The week of the reunion was here. The Reunion Planning Committee met one last time to discuss the final details and complete the preparations.
Finally, reunion weekend was here.

Reunion Countdown
Every alumni received a Welcome Package and the festivities began......

Return to Top
Reunion Happy Hour
Date: Friday, 08/07/2009
Time: 8 PM - 1 AM
Location
Gallery Resturant & Lounge
1115 East West Highway
Silver Spring, MD 20910
McKinley School Tour
Date: Saturday, 08/08/2009
Time: 10:45 AM
Location
McKinley High School
2nd and T NE
Washington,DC 20002


Reunion Dinner/Dance

Date: Saturday, 08/08/2009
Time: 8 PM – 1 AM (buffet will be available from 8 PM -10 PM)
Location
Martins Crosswinds
7400 Greenway Center Drive
Greenbelt, Maryland 20770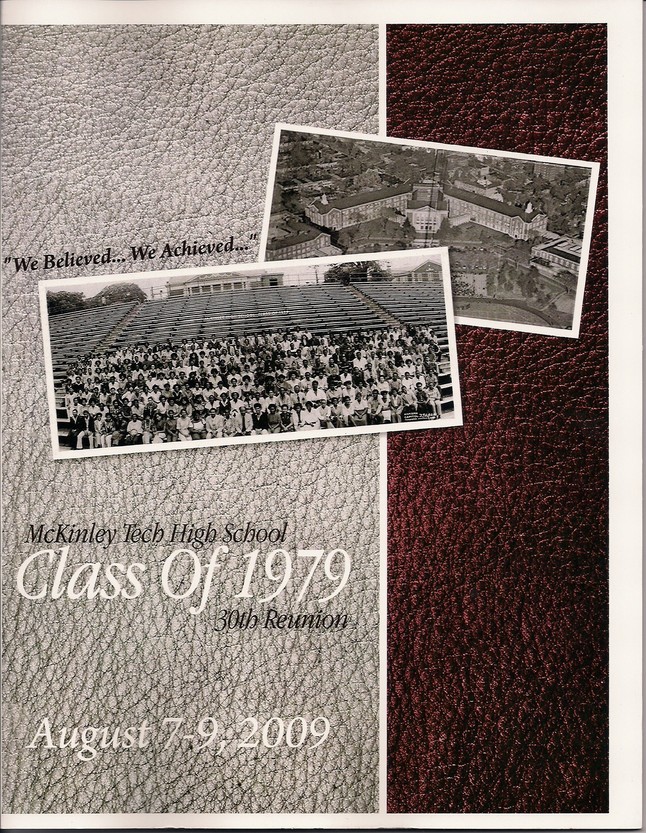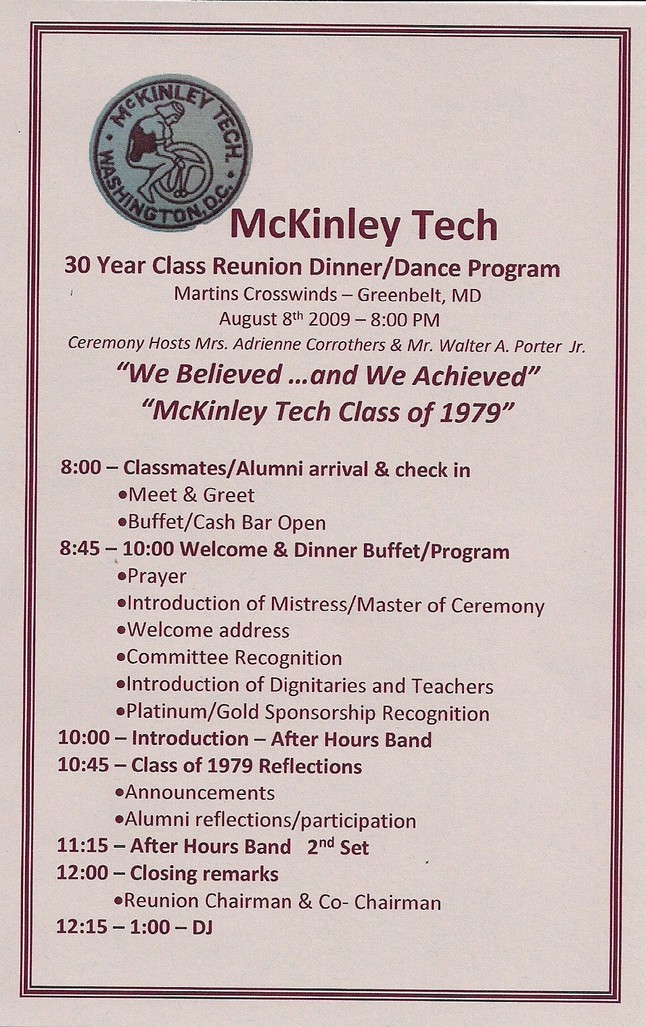 Click to Enlarge Click to Enlarge
Reunion Church Service/Picnic

Date: Sunday, 08/09/2009
Time: 10 AM to Noon Church Service
Noon – 8 PM Picnic
Location
Langdon Park
20th and Franklin Street, N.E.
Washington, DC 20018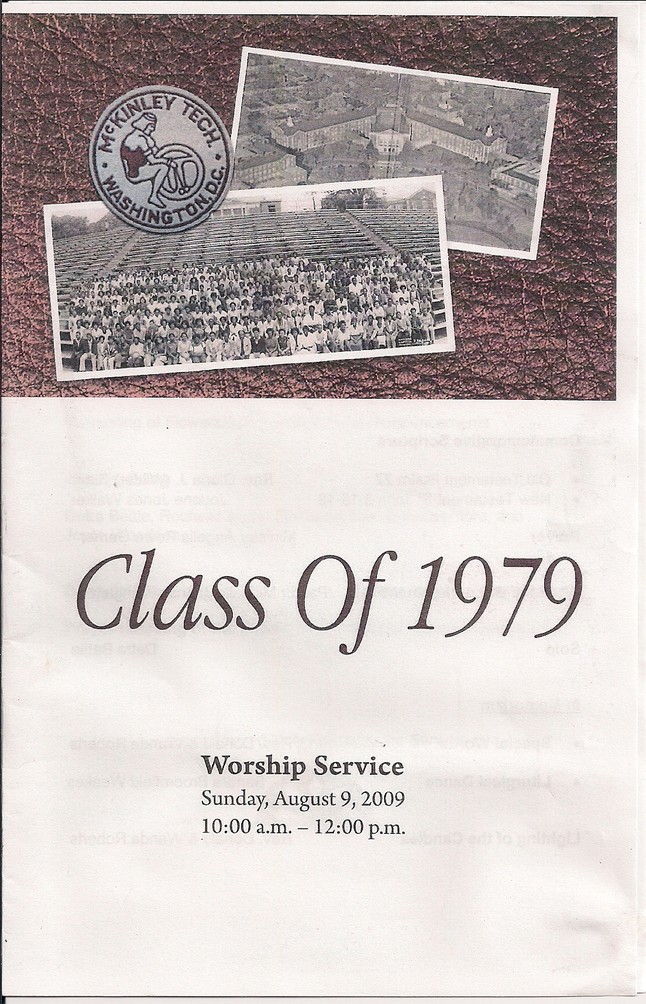 As the Reunion Weekend came to an end, everyone returned to their daily routines with smiles on their faces and joy in their hearts. They felt proud to be a member of The McKinley Tech Class of 1979.
We Believed ... We Achieved!!!!
(And there is still more to come)