McKinley Tech High School
Class Of 1979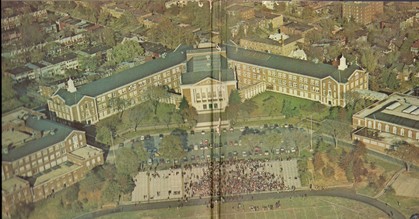 Classmate Profiles are for individuals who were a Senior at McKinley Tech during the 1978-1979 school year. Guest profiles are for teachers and administrators during this same time period.

If you would like to contact a member of the Class of 1979, please email the Site Administrator your name and contact information. The information will be passed on to the person you wish to contact.
Please visit the McKinley Technology High School website for information on obtaining alumni transcripts or duplicate diplomas.
---
Other McKinley Tech Websites
McKinley Technology High School
GoldenTechites - 50th Anniversary Graduates
McKinley Tech Alumni Association
.
ANNOUNCEMENTS
Happy Anniversary Class of 1979!!!
40 years ago today on 5 June 1979, we were at D.A.R. Constitution Hall preparing to walk across the stage to receive our high school diplomas!
In the coming months we will celebrate our 40th class reunion!!!
Below is a list of upcoming reunion events:
Saturday, June 8, 2019 Noon-8PM McKiney Tech Alumni Association (MTAA) Picnic at Fletcher's Field Community Park - 5628 Tanglewood Drive, Riverdale, MD 20737
Saturday, July 13, 2019 2:00-7:00 PM Men of Class of 79 host "Just For Men" - 12505 Ransom Drive, Glendale, MD 20769 - A space for the men to get together to unwind, catch-up, network, and also talk about men's health & fitness with health care professionals and a personal trainer.
Friday, October 25, 2019 8:00PM - 1:00AM The Main Event - Banquet/Dinner Dance - $135 per person, Martin's Crosswinds, 7400 Greenway Center Dr, Greenbelt, MD 20770. Log on to: www.mckinleytech1979.com , click the 40th Reunion link to register.
.